Sleep Sustainably
RECYCLE YOUR PAJAMAS : -20% ON THE NEW
As part of our Recycle with ARTHUR program in partnership with Give Back and La Croix Rouge , from September 12 to 25, 2022, we collect in all our stores, the pajamas you no longer wear to recycle them. For each donation, we offer you a 20% discount on your new pajamas! ¹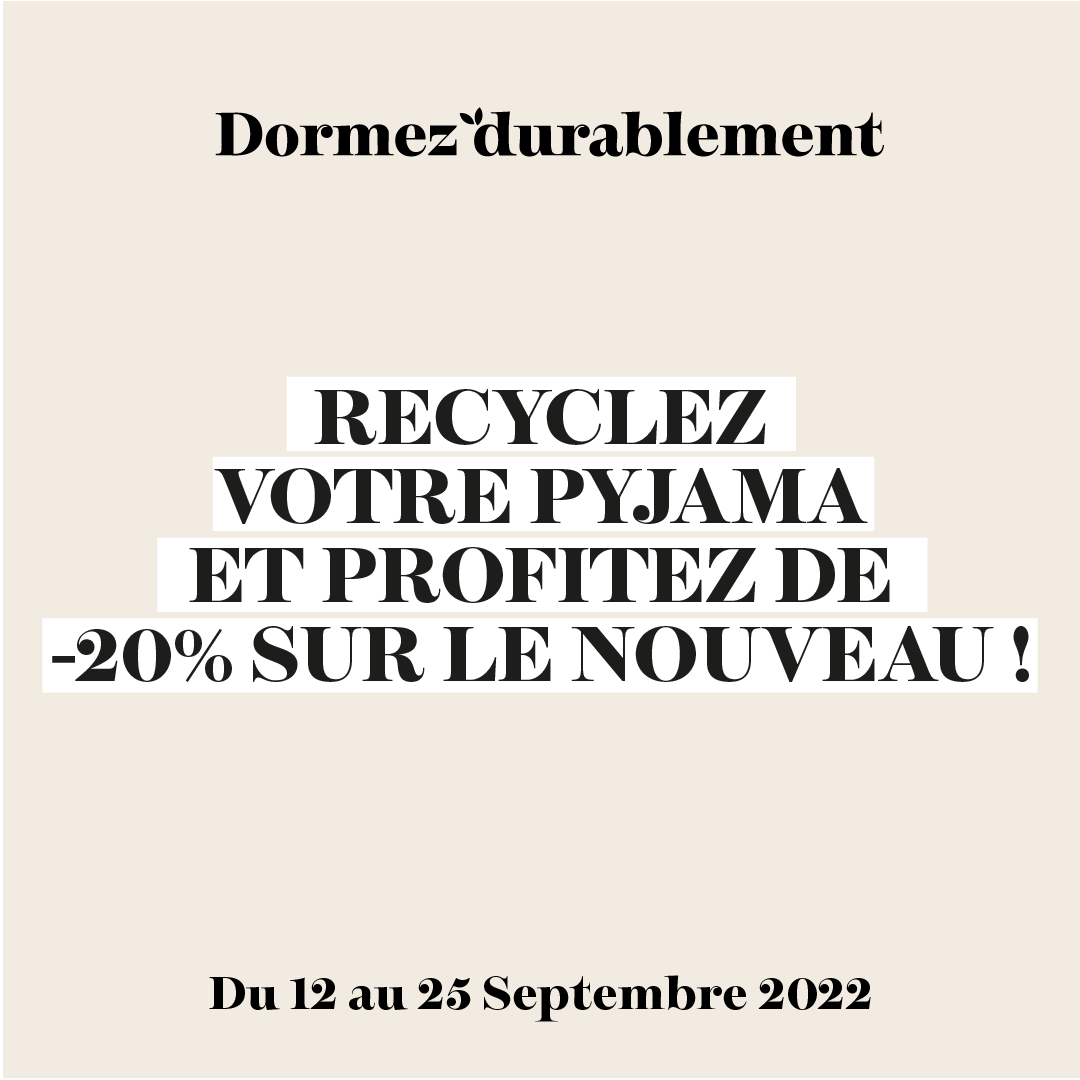 HOW TO PARTICIPATE ?
1. Sort your closets, gather the pajamas you no longer wear and put them in a closed bag. It's always more fun ;)
2. Go to your nearest ARTHUR store , slip your donation into the laundry basket provided for this purpose, under the watchful eye of our teams who will validate your deposit.²
Don't have a store near you? Click on "I recycle" to find a partner collection point, enter your email and validate your deposit by uploading a photo of your donation taken in front of the collection point, via the link you will have received by email. Once your photo has been validated, your -20% code will be sent to you within 24 hours. 3
3. Choose your new pajamas and immediately enjoy your -20% reward on the new collection.
What happens to the pajamas collected?

70% of our wardrobe is never worn and every year,
500,000 tons of clothes end up in the trash in France alone. The equivalent of 50 Eiffel Towers!
Since 2021, we have been partners of Giving back in order to participate in the emergence of a more circular and sustainable fashion by giving a second life to your clothes.
All pajamas will be taken back by La Croix Rouge via our partner Give back. They will all be sorted by hand, before being (depending on their state):
Donated to people in need, associations

Recycled into raw materials, insulation, padding, etc.

Recycled in the form of recovered fuel to supply factories (particularly cement works).


All the outlets make it possible to finance the social and solidarity actions of La Croix Rouge.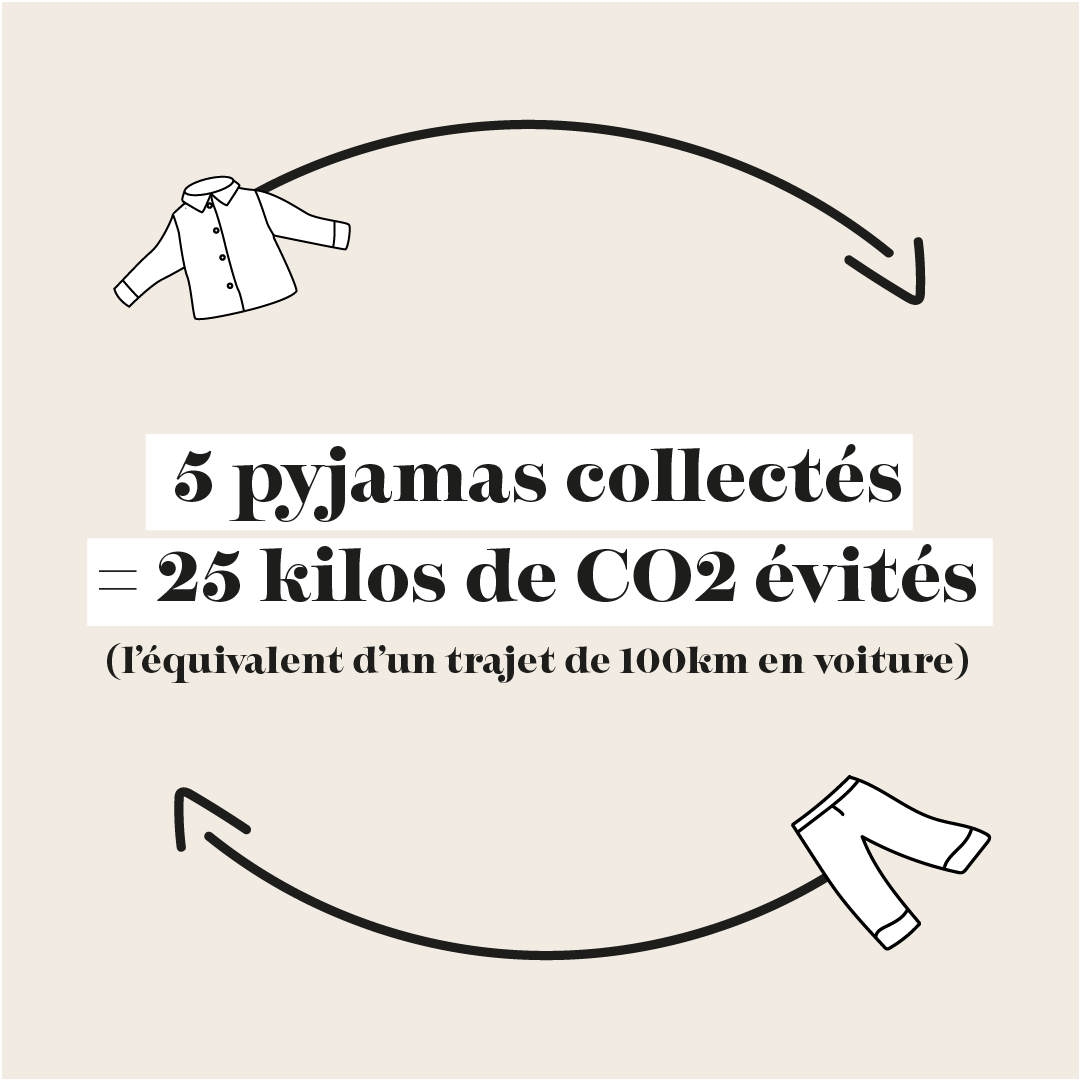 ¹ Offer valid from September 12 to 25, 2022. 1 donation = 1 reduction of - 20% (regardless of the number of items of clothing returned, the condition or the brand). Discount valid on arthur.fr and in all our stores, only on pajamas from the FW2022 collection ( see the pajamas concerned ) excluding permanent products.

² In store, the donation must be slipped into a closed bag in the laundry basket provided for this purpose, and under the supervision of the store manager who "accepts and validates" the donation. The reduction applies immediately and only once in the store where the donation took place. It cannot be used later, cannot be combined with another offer, nor can it be used on the online store.
All our addresses: Aix-en-Provence, Aix-les-Bains, Amiens, Angers, Arcachon, Blois, Bordeaux, Bourg-en-Bresse, Brest, Cabourg, Cannes, Chartres, Compiègne, Dijon, La Baule, La Rochelle, Le Touquet, Limoges, Lorient, Lyon, Menton, Montpellier, Nancy, Nantes, Orleans, Paris 6, Paris 8, Paris 15, Paris 16, Paris 17, Quimper, Rambouillet, Rouen, Rueil-Malmaison, Toulouse, Tours, Vincennes. >> Locate your store .

³ On the online store, follow the usual process by clicking on the "I recycle" button above. The 20% promo code can be used until 09/28 exclusively on the online store.