When winter is on its way, we just want to stop stepping outside and stay warm under the duvet. Despite everything, reality catches up with us and you have to muster your courage in both hands to face the freezing temperatures. Thanks to the ARTHUR pilou des Vosges, your mornings will never rhyme with grief again! Discover how this soft fabric will change the way you see the coldest of seasons. At Christmas, elegance is at the foot of the tree. Let the festivities begin…
---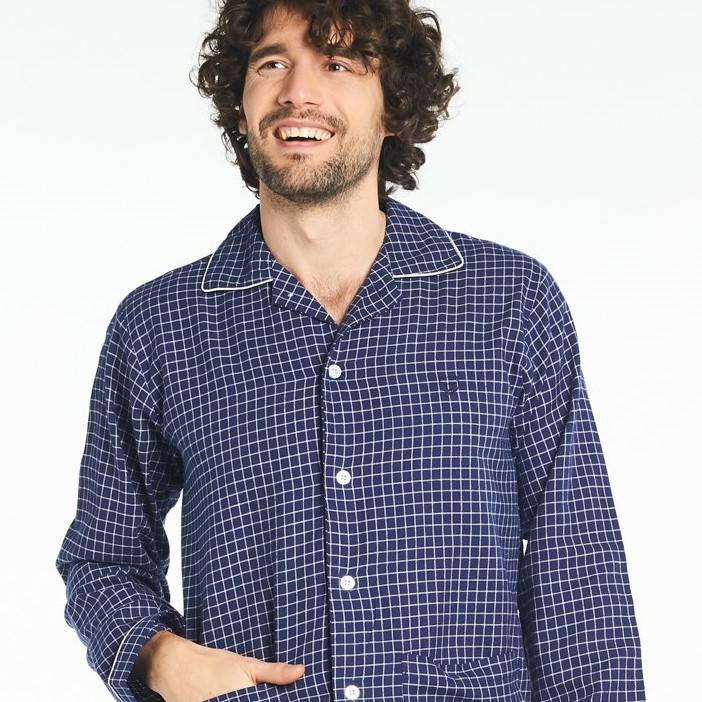 To never say I'm cold again!
Let those who like to see the thermometer drop raise their finger? Icy tips of noses, ears reddened by the cold or even feet seeking comfort near the fireplace, winter is sometimes harsh for some. For others, you will see that it is really not a problem! Wrapped in long pilou pajamas from the Vosges), you keep the comforting warmth of your cozy bed until breakfast and throughout the day (if you're teleworking), it's up to you!
A true condensed version of softness and warmth, this material will certainly not leave you unmoved. This brushed cotton, also known as "pilou-pilou", has been made in France, in the heart of the Vosges, for more than a century. Through a know-how that combines authenticity and quality, this fluffy textile offers a pleasant touch that you want to put on your skin.
It's hard not to fall in love with this maximum comfort fabric, whose natural warmth will help you get through winters without shivering. The advantage of the Pilou des Vosges? It is durable, almost wrinkle-free and does not irritate sensitive or fragile skin. We have warned you, you will love it!
---
To show off during the frost
Beyond the warmth that our fleece pajamas can offer, they accompany you night and day in all elegance. ARTHUR pajamas are cut in fabrics with fancy patterns imagined each season with ever more audacity, to keep you in a good mood from the moment you jump out of bed.
The ARTHUR pattern is the essential touch that makes our brand's DNA and has delighted all generations for 40 years! Available in all of our collections, the prints add that extra touch of style that makes all the difference. Because it's not because we like to hibernate that we have to hang out in an old jogging or a faded pajamas.
The style, we keep it in all circumstances. And nothing could be simpler with the ARTHUR models: once put on, the Clock pilou pajamas allow you to keep this dandy class that characterizes you so well, even in the bedroom!
---
When we love, we don't count. Large family or small recomposed tribe, the style is inherited. Whether you're a cool dad, a 100-mph mum or a mischievous toddler, the teddy pilou pajamas are the perfect gift to slip under the tree for the end of year celebrations.
All assorted and warm in pilou-pilou, you are ready for the traditional souvenir photo that will end up framed on the fireplace! These are the kind of moments that you will cherish all your life: complicit moments when ultimately you didn't need much to engrave them forever. Very soft pajamas that everyone likes, a good hot chocolate and a magnificent decorated Christmas tree in the background, what more could you ask for?
With ARTHUR, happiness is never far away! Make your loved ones happy by offering a useful gift: fluffy pajamas with incomparable softness, perfectly cut and quirky patterns that make you smile. You are fulfilled!
---
As you will have understood, the Vosges pilou is the material par excellence that effectively protects you from the cold during the winter. And for those who are particularly afraid of low temperatures, think of offering the complete panoply of the perfect chilly person: fleece dressing gown , slippers , socks . A Christmas all together where you will make people happy!
---